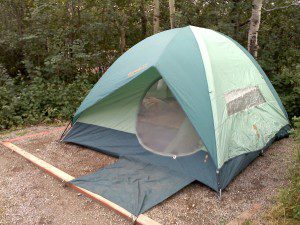 So, I forgot to mention in my last entry about our hike to Granite Park Chalet in the preceding days, that as I made camp at the St. Mary Campground on Friday night, I felt like I'd "come home" to my "home away from home."  The Chalet is comfortable enough, but I spend just enough time in my tent that it feels friendly and familiar – a bit like home.  I was looking forward to sleeping in my home away from home, not to mention with my CPAP machine, Friday night.  What's more, as I showed you in yesterday's post, the "pink at night" sky promised delight to come.
While I had hoped to have lovely fluffy pink clouds over Wild Goose Island on St. Mary Lake Saturday morning, I awoke to a blue bird day — absolutely cloudless.  I quickly packed up and hit the road, in a hurry to get to the Bowman Lake Campground.  During the preceding few days of foul weather, the Park was sparsely populated, but the arrival of beautiful weather and Labor Day Weekend was sure to bring in competition for campground sites.  I figured I could afford a stop at the Polebridge Mercantile for baked goodies, though.  While all of the goodies are great, I personally recommend the spinach feta rolls and the huckleberry bearclaws.  YUM!
I arrived at Bowman Lake to find that I had succeeded in beating the crowds.  I selected a site, set up my "home away from home" to insure my site couldn't be mistaken for an unoccupied site, and headed out again.  I continued up the North Fork Rd to Kintla Lake.  It's only 21 road miles from Bowman Lake to Kintla Lake (or 15 miles from the turn off the main road onto the Bowman Lake Road), but slow going on the rough road makes it seem further.
I took my time, enjoying that drive, and the views of Big Prairie, Round Prairie and the Livingston Mountain Range.  A few whispy clouds even made appearances for the first time that day — just enough to break up the blue a bit.
I was glad I had not made camp at Kintla Lake.  That extra fifteen miles would add about an hour to travel time each direction each day.  I wouldn't want to drive that road repeatedly in a passenger car, for sure.  I recalled that from my last visit to this area and had made the selection of which vehicle to use accordingly and was driving our Pathfinder.  However, if a person were just going to make camp and remain there, Kintla Lake would be a lovely place to spend a few days.  Well…  maybe.  The lake is lovely.  The campground is less so.  The sites have no trees between them, just logs to demark site borders.  It kinda looks like a concentration camp, albeit one with a great view. The perfectly clear water with the colorful pebbled lake bottom is wonderful.
After leaving Kintla Lake, I slowly made my way toward Columbia Falls for a grocery run — timed such that I would be able to listen to part of the Montana Grizzlies vs. Tennessee Volunteers game, or so I thought (my best laid plans were busted by a weather delay in Knoxville).  I had never driven the Inside North Fork Road, so I took that route.  It was a great drive through both green forest, and forest burned several years ago, as well as areas of willows.   If it had not been smack dab in the middle of the afternoon, I expect it would have been a great road from which to see wildlife.  The 30 miles from where I got on that road between just north of Polebridge to where it comes out at Fish Creek took me an hour and a half.  The road is moderately rough, steep and windy — nothing that poses any problems, just slow going.
All that driving chewed up the hours.  By the time I got back to Bowman Lake I had time to cook and eat dinner then enjoy sitting on the shore of Bowman Lake until "the stars were out, and they danced about" (back to Robert Service quotes).
What a lovely scene to have burned into the retinas when one lays one's head on the pillow and drifts off to sleep…
The next morning, when I stepped out of the tent, I found my legs, feet, and especially the heel with which I've been having plantar fasciitis trouble, had stiffened up so much that I limped like a cripple.  I figured a slow, slow walk up the Hidden Lake Overlook Trail would be a good way to rather gently stretch things out again.
I was in for a treat on the way.  Driving on the 'main' North Fork Road, nearing the junction, I started seeing occasional spider webs way up in the tree tops.  Dozens of them.  Glittering with dew.  Eventually I was able to find some that were close enough to photograph with a 400mm focal length — not the way one would usually shot spider webs, but I tried to make it work.
The "hike" to the Hidden Lake Overlook is an easy 3 mile round trip hike, along boardwalk much of the way.  It is often as crowded as a shopping mall during Christmas shopping season, but the views are nice and mountain goats are pretty much guaranteed.  This lovely Sunday morning it did not disappoint on any of those counts.
As was the case along the Highline Trail, wild flowers that are usually long gone by this time of year were abundant.
The ever-present mountain goats were, as ever, present.
Having stretched out the kinks, and feeling fine, I thought perhaps I'd attempt to photograph star trails at Bowman Lake that night.  Alas, I had not planned on doing so.  I had neither a shutter remote nor the camera software for using the camera-pc connection installed, so I was stymied.  Nonetheless, I enjoyed watching as late returning kayakers returned to camp and a bit of lake shore stargazing while enjoying a couple beers.
When I gathered up my gear to head back to my campsite I was startled when I turned on my headlamp to find that a fox had "snuck up" on me in the dark.  It was just a few feet away when I turned on my headlamp.
The next morning found me homeward bound.  I looked for the spiderwebs.  I knew where they were, but was unable to find them again.  I had better luck finding huckleberry goodies at the Huckleberry Patch and Flathead cherries from a roadside stand on my way home.
more photos here:  http://www.bigskycountry.net/glacier_sept_2011