On the third day of my solo camping trip to Yellowstone I got a good dose of the 'sunshine vitamin' despite a frosty start.  It was 24 degrees Fahrenheit as I rolled out of camp at 6:30 and the world was glazed with frost.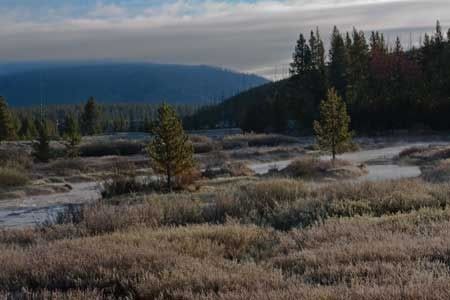 It was a bright and beautiful morning. I hadn't taken the Upper Terrace Drive yet this trip. Besides having great thermals, we've had some memorable wildlife encounters there on previous trips so I thought I better check it out this morning. No wildlife on this day, but the morning colors were fantastic.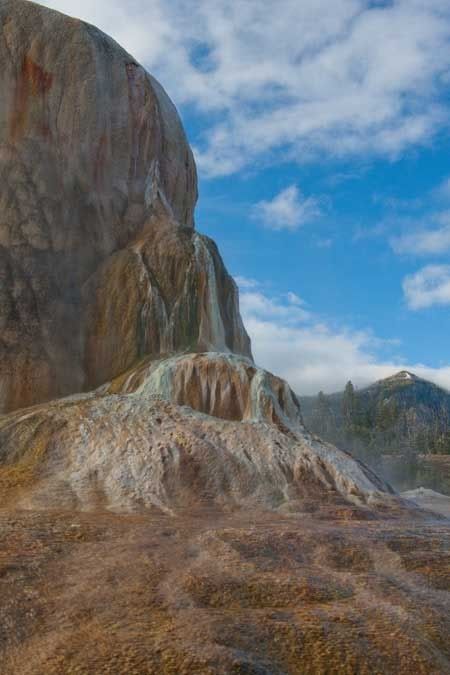 I decided to head for the Upper Geyser Basin, via Dunraven -> Hayden -> West Thumb. I couldn't resist a detour east to the Sedge Bay area to check for Circus Bear. He had a three-ring circus going, too, despite being 150 yards or so from the road and obscured by standing dead timber. I didn't linger.
I enjoyed the beautiful day and made frequent stops to enjoy the views.
I dallied enough on the way that it was about 2:00 when I arrived at the Upper Geyser Basin. I made a stop at the temporary Visitor's Center to check for predicted geyser eruption times and discovered that an eruption of Grand Geyser was imminent. I started hoofing it for Grand, noting as I did that the Beehive Indicator was erupting. I was torn. I decided that watching Beehive from the bridge on the way to Grand would allow me to see both if they erupted at the same time.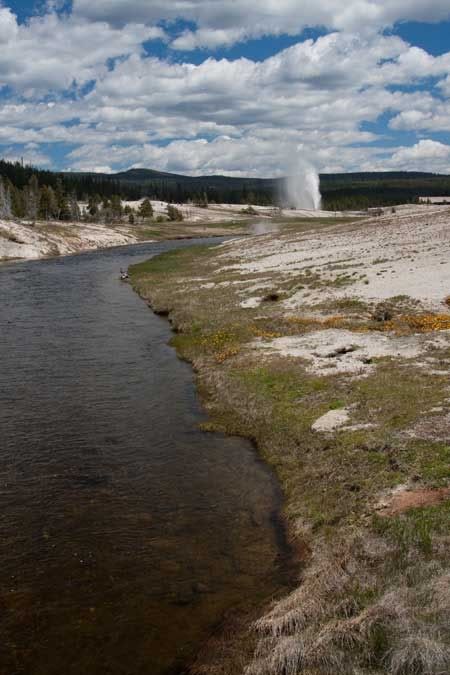 As it turns out, I could have detoured to Beehive and made it back to Grand with about 15 minutes or so to spare. Oh, well. Hindsight and all that… Saw the plumes of Old Faithful, Daisy and Grotto from the benches at Grand Geyser.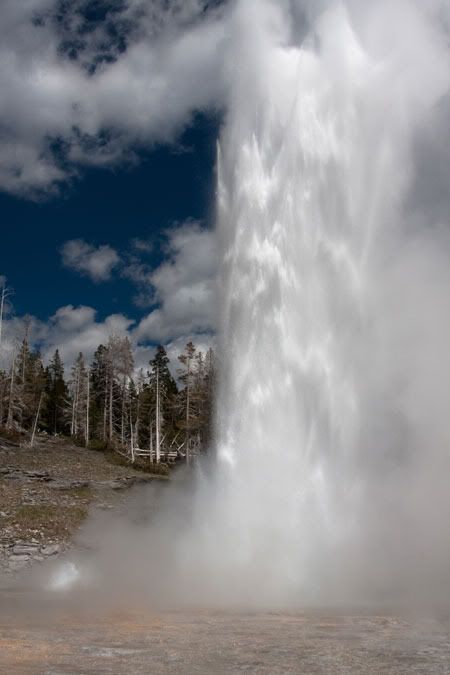 After enjoying a Grand eruption, I headed over to Riverside Geyser, stopping along the way to watch Grotto for a few minutes.
I had a bit of a wait there — about an hour — but was rewarded with rainbows (can you see the faint upper rainbow)?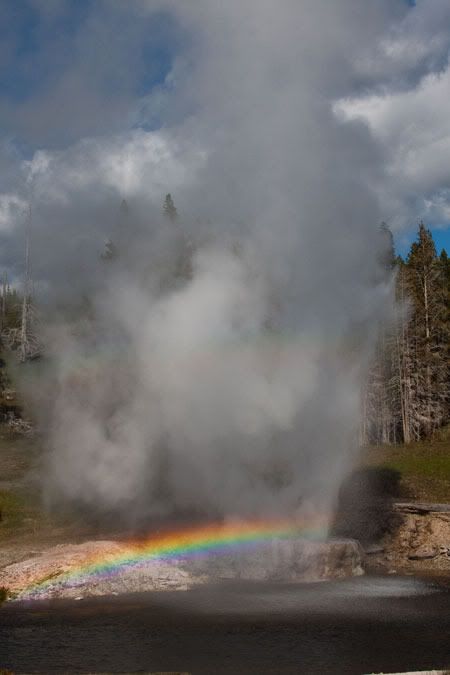 After the Riverside eruption, there was another moment of indecision — head go Great Fountain (a 15 minute or so drive) or wait for Daisy Geyser? I decided to leave directly. Good call. I made it to Great Fountain with just five minutes to spare. Checking the exterior temperature as I drove off, I noted that it was 74 degrees Fahrenheit. I had traded the frost of the morning for a sun burn and gained 50 degrees.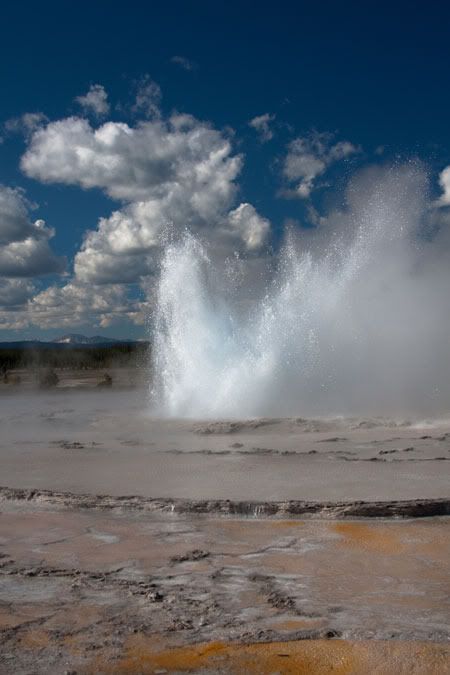 While a wait-free eruption is a treat, I had actually hoped that Great Fountain would erupt at the end of its predicted eruption window or run late — I so wanted a sunset eruption! Greedy! I didn't get the sunset eruption I hoped for, but the eruption of Pink Cone was a nice consolation prize.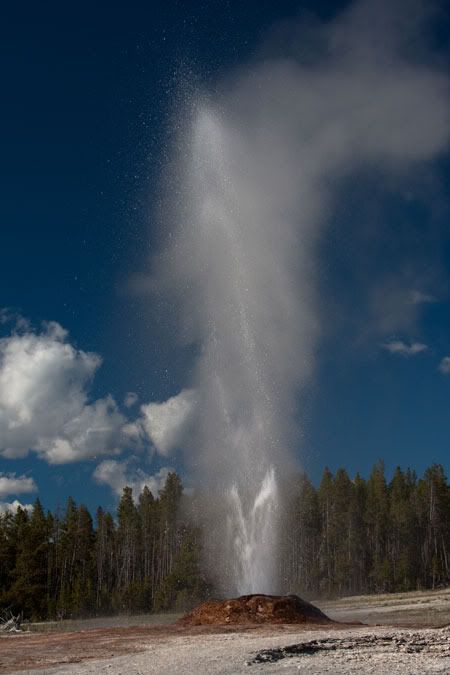 So, counting those geysers of which I saw the plumes if not a full view of the eruption, I witnessed 8 geyser eruptions in about 3.5 hours. No complaints!
Before calling it a night, I checked in with my pika pal again.