It's Dad's Birthday!  What did Dad want for his birthday?  Well, a trip to Yellowstone National Park with his family, of course.  So, today Mom, my sister Stacy, my niece Retta, my aunt Laura, her girls Elisha and Reannan, my son Bridger and myself as well as hounds Winter and Zigi, humored him by accompanying him on a Parkadise trip.  Rough duty.
The party was split into to minivans.  Dad, Stacy, Retta and I left the motel in one van in advance of the rest of the party in the other van.   We headed out under blue skies.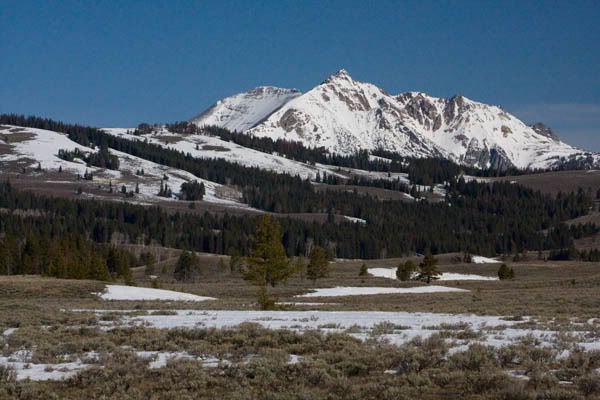 Dad and Stacy had seen wolves near Swan Lake yesterday evening, so we headed there first.  Along the way up the Gardiner Canyon, Stacy spotted a coyote on a rock in the Gardner River.  Dad and I missed it.  We were not disappointed in our goal to find wolves at Swan Lake Flats.  We saw 3 gray and 1 black wolf at the Bunsen Peak Trailhead at a distance of 100-300 yards away (closest to furthest wolf).
Leaving there, Dad was on a mission for bear so we headed for the bear corridor.  We made a few stops along the way, glassing and searching.  We saw a great many elk and bison and our first 'lil red doggies' of the year. We stopped and visited the sandhill cranes who were doing some remodeling and preening at Floating Island Lake.
We were to see another wolf before seeing our first bear — a single black wolf  one pullout west of the Buffalo Ranch / Yellowstone Institute.  We drove east as far as the Soda Butte Creek picnic area before turning back west again.  We ran into the rest of our party in the other van at the Soda Butte cone.  Up to this point their sightings included a moose near Pebble Creek, a pair of coyotes near the Ranch.
Of course, we saw some critters along the way.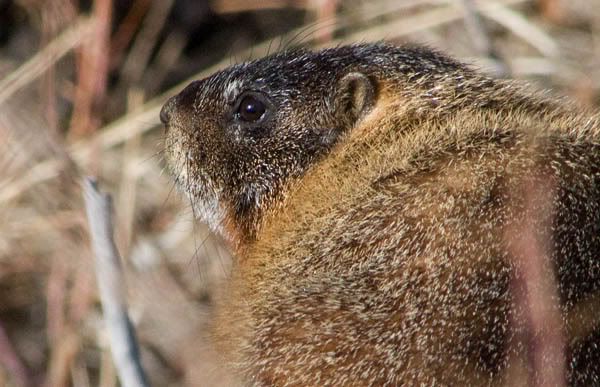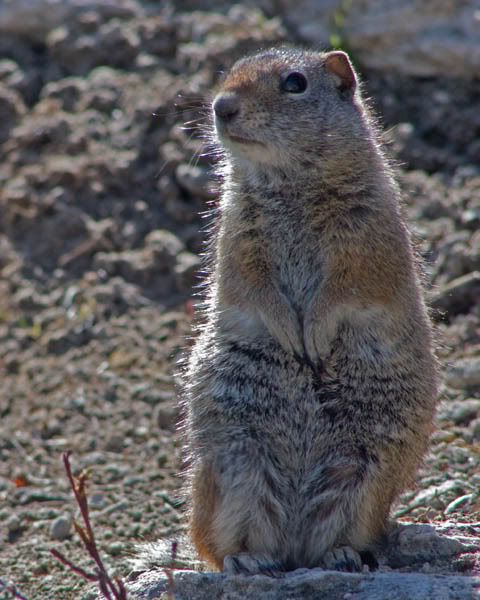 Traveling west our next notable sighting was a grizzly bear in Little America.  When we first arrived he was laying down with his rear end facing us.  However, after just moments, he got up and found a puddle to take a bath in.  Cute show!  He sat down, rocked back on his rump, laid down on his back in the puddle, rolled around a bit, then stood and shook off his bath water.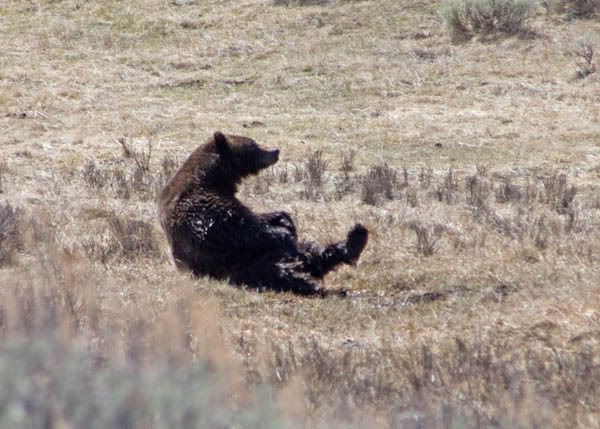 Next, we headed over to Canyon for me to get my first dose of Canyon for the year.  Ah!  Wonderful!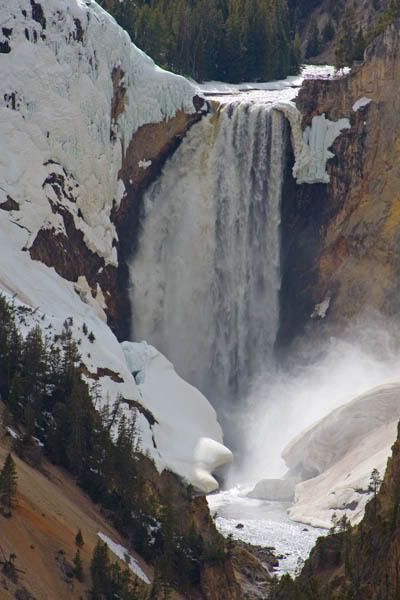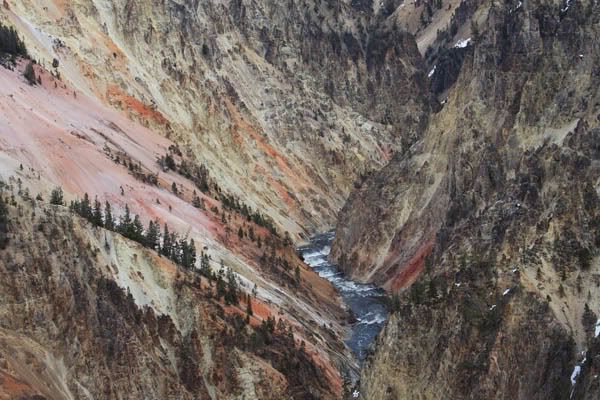 Heading back north toward Mammoth we saw a light gray wolf at Grizzly Lake and a black bear north of there. We swung through the Upper Terrace Drive, seeing a couple mule deer bucks, just starting to grow new antlers as well as a couple of jackrabbits.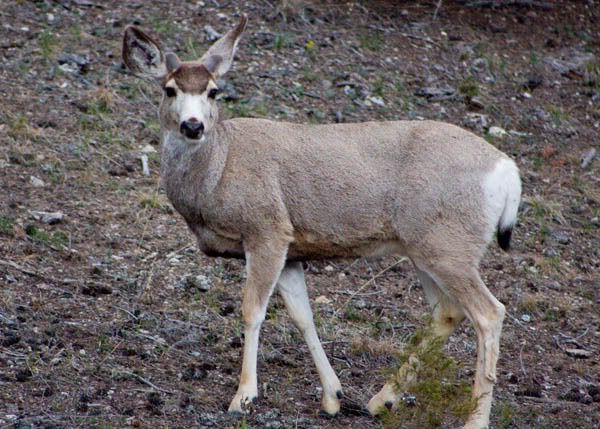 Meanwhile…  in the other van…  they saw a black bear swim out into Floating Island Lake, nab a duck  and submerge the duck, presumably to drown it.  Then the bear exhibited some surprise (body language).  Laura describes a scene wherein he seemed to debate briefly if he wanted let go of the duck or not in light of a new discovery.  He ate the duck THEN dived under the surface of the water and resurfaced with a small elk carcass which it towed to the floating island!  He ate there for a while before towing it to the far side of the lake and dragging it up onto the rocks where he ate at more leisure. Laura says it was like he had duck for a snack and elk for dinner.v We got a phone call from them relating this tale and reporting that the black bear was back on the carcass on the rocks.  So, we headed there to join them and enjoyed watching the bear on what little was left of the carcass.
Heading 'home' for our hotel room in Gardiner we had to stop to watch a bull bison using a red fire hydrant as a scratching post.  Most entertaining!
Bird list for the day:
Canada goose
Mtn bluebird
Common raven
Sandhill crane
Tree swallow
American robin
Common goldeneye
Mallard
American coot
Bufflehead
Killdeer
Cinnamon teal
Bald eagle
Northern flicker
Dark eyed junco
Black-capped chickadee
Red-tailed hawk
Brown-headed cowbird
Osprey
Black-billed magpie
Green-winged teal
Barrows goldeneye
Common merganser
Rough-winged swallow
Clark's Nutcracker
American dipper
American kestral